Continued from Page 1
With my dead fingers, managed to capture as many pics as possible. Shot some film too. Lax and Rakesh (the other two were blissfully asleep), had already gone up to the dzongri la and were trying some stunts. All in all, I had never seen anything like this before. Huge, massive mountains, lotsa snow, bright sunlight, cold thin air to breathe.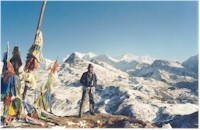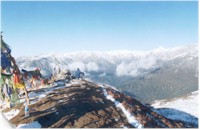 When I reached the peak, we shot a small documentary. Alas it was time to come down. Had thukpa, packed and left along a shortcut route (melting snow and slippery slush).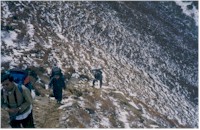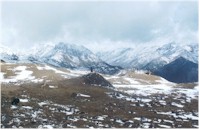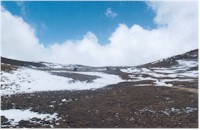 As we went along, high clouds rose and blocked out the sun. God pretty windy and cold. But after the initial climb over the dzongri peak, the walk was on level ground.

After another 2.5 hr walk, we arrived at the top of a hill, from where we had to descend to reach kokchurung. The climb down here all but broke my legs. The muscles on the sides of both my knees were sprained and I was reduced to walking on 4's (two sticks). I made it down to kokchurung a good 45 minutes after the last of my group had reached there.
By the time I reached kokchurung dragging my two screwed up legs, I knew my trek was over. Took a break of 30 min, and we all agreed that We would push further up to thangsing - another 3 kms . Lax and Rakesh went ahead, while JC matta stuck along with good old limping me. The walk was supposed to be for 1.5 hrs. But it took me almost 2.5. Not only that we did it in the worst snowstorm I had ever seen.
Just 50 m before thangsing hut, Lax was back for me.. to carry my back pack. As soon as I reached there, I was given lotsa hot fluids like tea, lemon tea, and coffee and wai wai. Wow. I had managed to survive that walk!!! We were all holed up in the kitchen, since the other room was taken up by some foreigners. The Germans had brought along with them 2 cooks, who cooked for them a lavish five star meal, And since we were in the kitchen, we could sample the food here and there. Momo , veg momo, spring rolls, onion pakoda and fruit soup were on the menu.
At night we had a discussion and we decided that in spite of our present condition (lax had a throat infection, and both mine and matta knee muscles were out), we would press on till samiti lake at least if not goecha la.
A map of the route we had picked up on the net earlier said that the distance between Thangsing and Samiti was 2 km while the porters there said that it was more like 4. The last part being a steep climb. Goecha la was another 6 hrs to and fro from there!!! So we decided that with our rations, our condition and with available time, Samiti Lake with be a more practical and achievable destination.
28/4/02
Thangsing - Samiti Lake - Thangsing - Kokchurung
My biological clock is superb even at high altitudes. I woke up sharply at 3:30 am, coaxed myself to get out of the sleeping bag, and stood up on very shaky legs and went out. A clear moon was shining above and an unparalleled view of Pandim behind the hut. We were in a race against time.
You see everyday goes like this. After midnight the sky is clear till 9:00 am. Then the clouds rise and join forces to block out the sun and the mountain tops. At 1:00 pm heavy moisture laden clouds surround us. From 2:00 pm to 6:00 pm it rains or there?s snowfall depending on altitude Not a pleasant time to venture out.
We had to go to samiti and get back to thangsing before 11 am. And then reach the safety of kokchurung before 1:30. But I guess the weather gods had different ideas. As we walked to samiti in the semidarkness, jumping across rocks and innumerable streams, and snow covered paths clouds started moving in. We were all dismayed. We had our hoped high for a sunny day at samiti.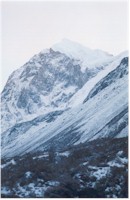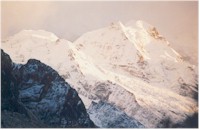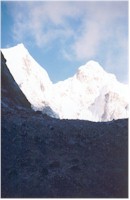 Was this how our trek was going to end ? As we walked clouds played hide and seek.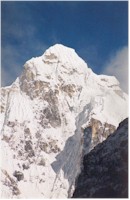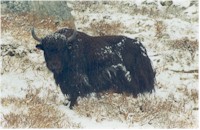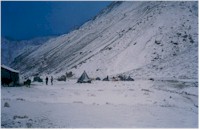 We reached Samiti(14500 ft) at 7:00 am with brilliant sunshine!!!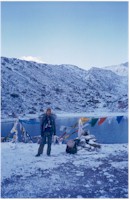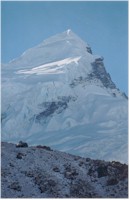 Great views of the Kanchenjunga, Kabru, Tensinghan, Pandim. This was all I ever wanted from this trek. Lotsa pics, and complimentary tea from the hut porters, and bread jam (not brushed my teeth yet!! yuck!!).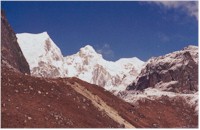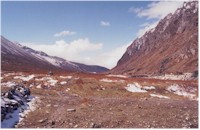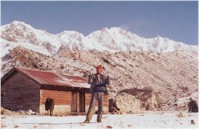 What a satisfactory morning.

Made our way back to Thangsing, packed our stuff and made a slow descent to kokchurung by 12:00. Keeping to its time table it started to snow by 2:00 pm and the 4:00 pm now looks more like 7:00 pm. We had very little experience in organizing a long trek like this one. This showed in our food choice. We were having to eat either kichidi or wai wai every day it and it was doing no wonders for our healths and stomachs. We are running short on these too. Also our gear has been no match for facing the weather. So we have decided to give ourselves and our trek one final push and descend all the way to Yoksum ( 2 days walk in one day ) by bypassing dzongri - that is Kokchurung to Tsoka to Bakhim to Yoksum. Its about 10 - 12 hr walk and if the weather moved in ...????
We'll try anyway.
29/4/02
Kokchurung - Phedang - Tsoka - Bakhim - Yoksum
When I woke up at 4:30 am, I had psyched myself up for the hellish day ahead. The previous day there had been a prolonged snow storm..10 hrs..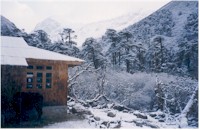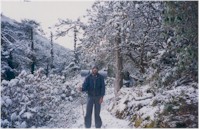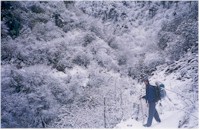 the whole hillside and mountainside was covered with snow..soooo bootiful.. There was 4 inches of snow everywhere. The path from kokchurung to Phedong goes is almost a level one.. goes thru a forest and the whole path in ht forest was carpeted out with snow. It was like walking on air.

There was so much of cushioning and softness in the walk. It looked like soap foam all over the place. As the sun played hide and seek again, the snow from the tree tops occasionally fell off on our heads..a small avalanche!!! After 3 hrs we arrived atr Phedang to find that even here there was pretty decent snowfall. Had a quick beaten rice breakfast and rushed down to Tsoka. As the descent progressed my left knee as usual sprained. And my big left toe was touchy as a result of banging against rocks. By the time I reached tsoka, my left knee was almost useless and the whole body and backpack load was on my right leg. Luckily it held on. A small break in tsoka and we left for Bakhim. I saw a fog cover the hills like Ive never seen before. It was so thick that it was dark brown in color.!! Icy cold rain started to pour on us mixed with ice pellets. The rain accompanied us till Bakhim by which time, the sun had started to shine thru.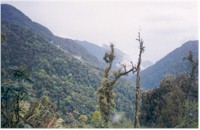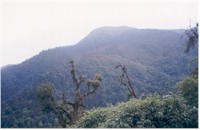 The story from here gets a little fuzzy. The pain in my legs was so much and I got so tired that I was mechanically putting one foot after another for the next 6 hrs. Nothing mattered except reaching the safety of Yoksum. I was dragging myself, crawling, limping, cursing, yelling with pain as my foot hit one rock after another and asking myself the question - why do I do this again and again..? I had pushed my limits.. Reached the road finally at 6:30 am... after a almost continuous 13 hr walk (my longest walk till today) The road to the hotel never seemed to end.....To find that the hotel we stayed in earlier has been booked... for that matter every hotel had been booked by a large group of students partying .... with some luck we managed to find two rooms in the pemathang hotel..

had a nice bath and a folk song session with the porters and a hot dinner which didn?t have anything to do with kichidi and wai wai.
30/4/02
Woke at 7:30 am. Took a reserve taxi from Yoksum to Jorethang since the shared taxis from Yoksum were available only early morning - for Rs 1000(reserved taxis are costly!!) From Jorethang, took a shared taxi and arrived at Siliguri. Booked up into Siliguri lodge and had a great dinned
1/5/02
Just in discussing where to go we spent the whole day and then went nowhere. Saw the handy recorded version of our trek. Looks fantastic. Had gone to Hong Kong bazaar in the evening. Lotsa junk electronic stuff. Walkman, radio, watches, lighters, pens, hi fi systems, vcd players. Came back to hotel and discussed with bungali babu(hotel manger)about what to do tomorrow. He suggested we go to kokorbitta across the indo-Nepal border.... we'll see
2/5/02
BF at Khana khazana... and boarded a bus headed for panitanki...which broke down in between.. After a partial refund, boarded another bus.. and reached panitanki. I knew what to expect at the border and on the other side. Matta and JC had high expectation of shopping on the other side....
Talked to the border police..Crossed the Mechi bridge and we were in Nepal!! All we found to shop there were clothes.. with USA, Gap, Nike, Addidas written all over them. Nothing to do with Everest or Kanchenjunga or Nepal. So we returned empty handed. Khana khazana again and left for NJP on a cycle rickshaw.
3/5/01
Arrived in Sealdah to a hot and humid day. Sweating non stop. Booked a dormitory at the Yatri hotel (Howrah) and then took the Coramandel express
4/5/01
Arrived in Madras and went to matta's friends house. He was a great guy. We had a really nice dinner at his place but I was not upto it - stomach was growling
5/5/01
Arrived in Bangalore with high fever. The lunch in the train the previous day. The trek had not destroyed me. But the train journey had.

Team :Nityananda Nayak, Laxminarayan S, Sunil Math, Jayasimha
with porters Sonam Tensingh, Ramshingh, and guide Rakesh
~~ Nityanand Nayak.